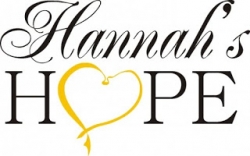 Locations: PO Box 141, Siloam Springs
Website: http://info@hannahshopefoundation.org
Mission:  Hannah's HOPE Foundation is on a mission to Help Others Pay Expenses.  We want to help support families that have a child battling cancer, raise awareness about childhood cancer, and to help find a cure to eliminate this terrible disease.
About:  We are a 501(c)3 non-profit organization.  We help Arkansas families that have a child with cancer pay their day-to-day life necessity expenses.  We give our services free of charge or we will get special needs taken care of at a substantial discount.  Hannah's HOPE was founded in 2009 by Jon and Tiffany Boles in memory of their daughter who died at 17 ½ months old, after a four month long battle for her life.  Hannah was in a fight against a rare childhood cancer called AT/RT, Atypical Teratoid Rhabdoid Tumor.

We help families that are going through an unexpected and unimaginable situation.  When you child is diagnosed with cancer your world stops, although, the world around you continues.  We believe that parents should be with their children while they are fighting for their lives.  Parents still have to work to pay their bills and children should not be alone in the hospital while fighting cancer.
Hannah's HOPE is designed to help parents during this difficult time and to make an already difficult situation less stressful.  Parents are already worried and stressed about their child, they do not need to worry about losing a job, car or home.
How You Can Help:  The main purpose of Hannah's HOPE is to help comfort parents and elevate a little stress financially while their child is battling cancer.  Hannah's HOPE decided we needed to also do something help comfort the kiddos as well.  TeddyCare Project was created to do just that!

TeddyCare Project gives new teddy bears to every new oncology patient at Arkansas Children's Hospital.  We hope these teddy bears give comfort and a smile to each child who receives one.  They will also be used as a teach tool.  The Child Life Specialist at ACH will use these bears to show and inform children about procedures and tests that they will have done.

TeddyCare Project is accepting NEW bears that are 12-14" tall!  If you are interested in being a part of the TeddyCare Project, you may send NEW bears to the PO Box address for Hannah's HOPE or feel free to e-mail us for more information atteddycareproject@hannahshopefoundation.org.
Donations:  All donations are welcome and are tax deductible.  There is no donation that is too small; every penny makes a difference.  We will also accept gift cards of any kind (100% of the cards will be given to a family).  Only money donations will be tax exempt.

Hannah's HOPE is now equipped with automatic withdrawal from your bank account, if you would like to become a monthly donor.

Our goal is to have ninety percent of all money donations (excluding gift cards) used to help families that are in need of financial help.  The other ten percent will be used to help maintain the website, postage to mail the donations to the families in need, and other foundation needs.