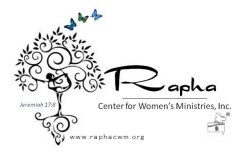 Locations: 1110 West Poplar, Suite B Rogers AR 72756
Phone: (479) 372-4370
Website: http://www.raphacwm.org
Mission: Rapha Center for Women's Ministries believes that in our brokenness we can come to know the love of God through Jesus. Because He lives, we can experience emotional and spiritual healing.
About:The Rapha Center for Women's Ministry, Inc.is a non-profit ministry for women, promoting emotional and spiritual healing. The Rapha Center provides complete confidentiality and a non-judgemental atmosphere, making it a safe place to begin to deal with hurts. Facilities are staffed by crisis volunteers. We We opened in Northwest Arkansas in August 2013 as a local chapter of Center for Women's Ministry. We recently moved to our new location August 2016.
Services: We offer individual counseling sessions with paraprofessionals, support groups related to community's specific needs, Bible Studies and prayer groups. Centers offer such facilities as counseling rooms, lounge, lending library and meditation chapel.
Volunteer opportunities: You can volunteer by going to our website and filling out a volunteer form or coming by the center. Volunteer opportunities are for receptionist, prayer partner and peer counselor, for which you are required to go through Basic Peer Training.